Coming up Events
Mark Your Calendars
September 18, 2022 - 4:00 P.M.
YOU ARE INVITED TO OUR 2ND ANNUAL "FREE" COMMUNITY SHARING DINNER"
Guest Speaker, Dr. Shounuck Patel
A Regenerative and Osteopathic Sports Medicine and Spine Doctor at The Patel Center For Functional Regeneration in Arcadia, CA.
Dr. Patel will update the success of using Stem Cell, (PRP) Platlet Rich Plasma, Prolotherapy, Bone Marrow Cellular Therapy to heal patients with various conditions to get them back to a regular lifestyle in a relative short time.
Google and watch "Ending Diseases," - Filmed through the duration of ten clinical trials that used regenerative medicine to treat brain cancer, breast cancer, leukemia, lymphoma, HIV, spinal cord injury, eye disease, and bubble boy disease. Over the course of four episodes, the patients put their hope and their faith in the trials and we witness as their illnesses are profoundly transformed by pioneering treatments.
Medicine is on the cusp of a radical transformation where therapies will move away from chemo, radiation, surgeries, and a lifetime of treatment, and toward medicine that is less expensive, less toxic and most importantly, curative. Pro athletes are using these new therapy treatments to return back to playing the game they love "in half the time!" Surgery of old is just that, a thing of the past!" Read the June 2022 Newsletter to get a better idea of where this type of therapy is moving to in this present century.
Enjoy An Organic 100% Plant-Based Dinner Free of all chemicals, preservatives, MSG, artificial flavors, and colors. Just reserve your seat by leaving your name and any others who maybe attending with you at bereanlahealth@gmail.com Dr. Richardson Honore, Senior Pastor Dr. Tammie Lindsey, Associate Pastor.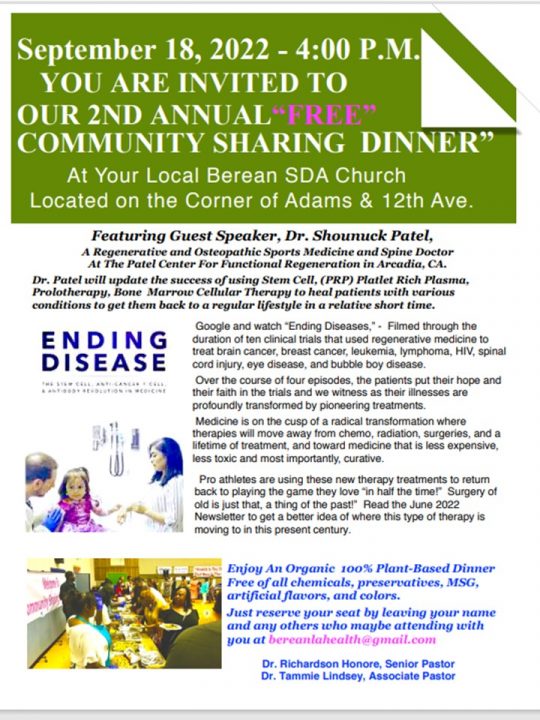 Cooking Class #1   
Sunday - August 07, 2022
1:00 - 3:00 p.m. - Multi-Purpose Room downstairs)
Cooking Class #2   
Sunday - August 14, 2022
1:00 - 3:00 p.m. - Multi-Purpose Room downstairs)
Community Sharing Dinner  
Sunday - September 18, 2022 - 4:00 - 6:00 p.m. - (Multi-Purpose Room Downstairs)
First Dinner was held on July 14th, 2018
First Cooking Class was held on August 7th, 2018
Our next class will be on Tuesday, August 14, 2018, beginning at 6:30 p.m.
Click "Calendar" tab and look for cooking classes dates and other info.
For further info, please call (323) 713-0228  Ext. 702