Vegan Veggie Lasagna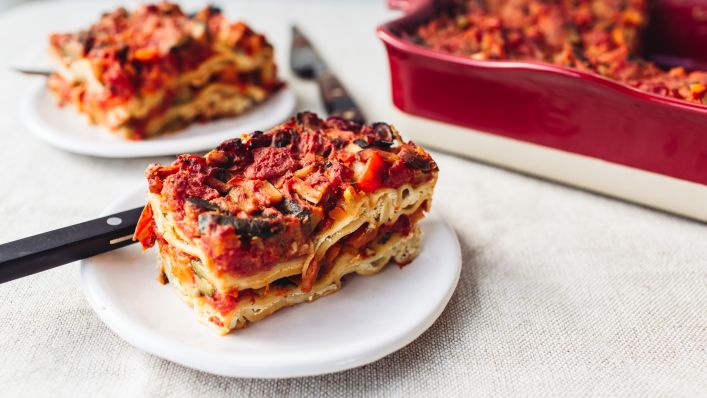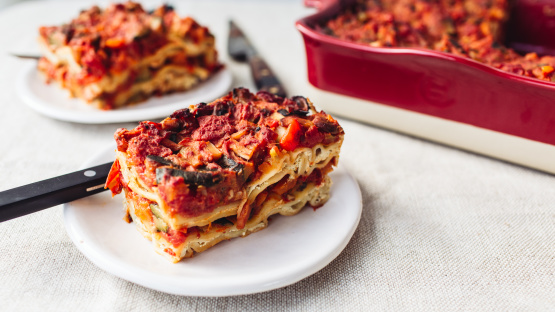 Makes: 8-9 servings  |  Preparation Time: 2 hours
Tools:
2.75 quart/11 cup glass casserole dish (9.5″ x 7.5″)
Mandoline slicer (optional, you can slice veggies thin, but not mandoline thin, with a good knife)
Blender (for Dairy-Free Ricotta Cheese only)
Ingredients:
One full batch of our Dairy-Free Ricotta Cheese
1 organic sweet potato, baked
2 cups of organic baby spinach, packed
10 stalks of organic asparagus, sliced into 2″ lengths
1/2 organic yellow pepper, sliced paper thin with mandoline
1/2 organic red pepper, sliced paper thin with mandoline
1 9oz. jar of organic tomato sauce (I like a tomato basil or tomato garlic)
5-6 fresh organic basil leaves, sliced thinly (optional)
1 medium-sized organic yellow squash, sliced paper thin (lengthwise) with mandoline
1 medium-sized organic zucchini, sliced paper thin (lengthwise) with mandolin
Directions:
Before you do anything, make sure you bake that sweet potato in a preheated oven set at 350°F for about 45 minutes. I usually put it in the oven, then start making my Dairy-Free Ricotta Cheese and prepping my veggies, and by the time I'm done and have washed my dishes, it's ready for assembly.
Slice your zucchini and yellow squash lengthwise with your mandoline and set aside.
Slice your peppers on the mandoline and cut your sweet potato into strips with a knife. If your potato is too soft for that, no problem, just remove the skin and set aside. Cut your asparagus into 2″ lengths and set aside.
Prepare your casserole dish by spooning some of your tomato sauce into the bottom and coating it entirely. Lay on alternating strips of yellow squash and zucchini to create one layer about one slice thick. These are your noodle replacements—you may be very surprised how similar they will taste to noodles once cooked with sauce.
Now lay on some strips of sweet potato, or if it is too soft, spoon some into your casserole dish leaving space between spoonfuls/strips. Place dollops of Dairy-Free Ricotta Cheese into those spaces between the sweet potato. Then place some asparagus and peppers evenly onto your layer.
Now lay down a layer of spinach leaves. I remove the stems beyond the leaf and create a gap-free (or relatively gap-free) layer of spinach that reaches all four sides of my dish. Then I spoon some tomato sauce on top, covering the entire layer of spinach. I repeat these steps all over again beginning with my zucchini and squash layer, filling my dish with veggies until I reach the top of my dish.
Sprinkle some fresh chopped basil on top of your lasagna. I keep a basil plant in my kitchen so I am not forced to buy too much basil at the store. A little plant is perfect to just pluck off a few leaves. They grow back quickly and I know where my basil is grown.
Bonus
On top of your lasagna, after your basil sprinkle, place some asparagus around and some Dairy-Free Ricotta Cheese 'til it looks purty. Then place the lasagna uncovered in the oven preheated to 325°F to bake for 1 hour.
After an hour, remove your lasagna, and let it cool down for about 20-40 mins. It is important to be patient so your ricotta will set—you want the Dairy-Free Ricotta Cheese to become texturally similar to dairy ricotta and the cool down time does this. If you are impatient, like I am sometimes, you can scoop it out hot and eat it up. It will taste the same (deeelicious), but it won't hold it's pretty layers as well. Once set, your lasagna will be beautifully layered whether it is cold, reheated or room temp. It is actually the tastiest and prettiest the next day after sitting in the fridge overnight. Once set, you can reheat in the oven and the cheese will still hold shape.
Gluten-free, Dairy-Free Vegetable Lasagna will keep in your fridge for a little over one week. Be sure to store it in an airtight glass container. I baked the lasagna in a glass container that already comes with a lid, so once cool, I can put the lid on and pop it in the fridge.